I'm as mad as hell. Come yell with me!
---
About Subversive
Do you have your own gripe with your local or state government? And what are the streets like in your part of town, in your home state?
If you'd like me to fire a rocket up them, or a shoddy business, I'm listening! You can email me here.
It's time to stand up and tell our politicians that we are as mad as hell and not going to take it anymore.
Many people of my vintage, over 50, would have seen the movie Network.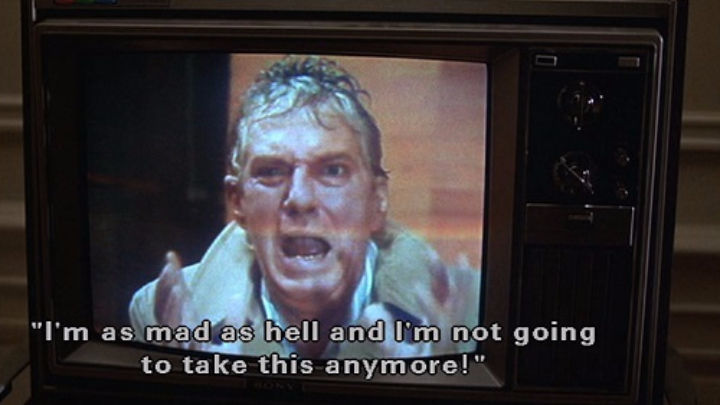 Over the weekend I watched again the scene in which Peter Finch's character gets up from his newsreader's desk and implores his audience, watching him on 67 TV stations across the United States, to stick their heads out of the window and yell: "I am mad as hell and I am just not going to take this anymore."
He has already explained the parlous state of the world and, in particular, the United States, with its high inflation, high unemployment, the arms race, a rising crime rate and a general apathy about the state of the nation. He has already explained that yelling out the words, 'I am as mad as hell and I am just not going to take this anymore' will not cause change, but may just be the catalyst for it.
While watching this, it struck me how often I hear people over 50 years of age, and younger for that matter, complain about the state of our nation. They highlight corruption and inequity throughout our community, irresponsible media outlets, the lack of funding for everything from education to pensions, the rising tide of racism in Australia – largely promoted by politicians, the failure to provide women with equal opportunity, the high unemployment rate, the obscene salaries paid to executives, the proposed tax cuts for big businesses and the failure to address so many social problems, including indigenous disadvantage and homelessness.
I am aware that these and the many other issues that are dragging our society down resonate at different levels for each person. We all have the issues that concern us most. We all recognise most acutely those factors that affect us most, or that we see most often, but I suspect most people can agree that these are all issues of concern. We may all attribute different causes to these problems and may have different ideas about the solutions.
But I suspect that there are two things we can agree on.
Firstly, we can all agree that there are some significant problems out there. Secondly, we all recognise that our self-serving politicians - who say what we want to hear rather than doing what needs to be done - need to do more.
In this regard, I am reminded of another movie scene, from V for Vendetta. In the scene in question, the central character, using television as a platform again, points out to the people of London that it is not the politicians who are responsible for their bad government, but the population as a whole for allowing them to do it. He sets a date, 12 months hence, and calls for a demonstration and a second Guy Fawkes Night – a burning of the houses of parliament.
I hasten to add that in my view, burning anything will cause more many more problems than it solves. Burning parliament house, or damaging it or its inhabitants in any way, is not an option. What is, however, is setting a date and time in the future where we all walk outside and yell at the top of our lungs: "I'm as mad as hell and I am just not going to take this anymore."
Frankly, I think we have a responsibility to future generations to do just this. It will not in itself solve all or any of our problems, but it may send a message to our politicians that we, particularly people over 50, want change. We expect politicians to stop the platitudes, pull back from the spin, stop telling us what they think we want to hear, stop telling us they know what we think, stop telling us that their party's way is the only way, stop peddling the absurdity that one side is all wrong and the other side is all right, stop suggesting that their side's members are smart while those on the other side are dumb, cease fighting over what is a local, state or federal responsibility, and stop responding to self- interested lobby groups.
There is only one lobby group that they should listen to – the population, which is as mad as hell and less than inclined to take this anymore.
This is not about policies or political philosophies, it is about how our politicians should work together to address the issues that impact on the nation. They must take full advantage of all the talent available and act only with the best interests of the community, rather than their re-election, and tell us ONLY what we need to hear and how they intend to address the huge problems facing this nation.
I know you are all as mad as hell. We all are. So why not take a stand?
If we don't, who will? If not now, when? If not you, then who? If not this action, then what?
Shall we set a date in a few months time, when we all undertake to go outside, no matter where we are and who can hear, and yell out in one voice, one Australian voice: "I'm as mad as hell and I am just not going to take this anymore''?