Pinot Palooza perfection
---
About Vine
One loves to study wine, the other just loves to drink it. Australian couple sharing their thoughts on beautiful wines from around the world.
We hit the Pinot event of the season.
We had the opportunity to attend the Pinot Palooza show that is touring Australia at the moment.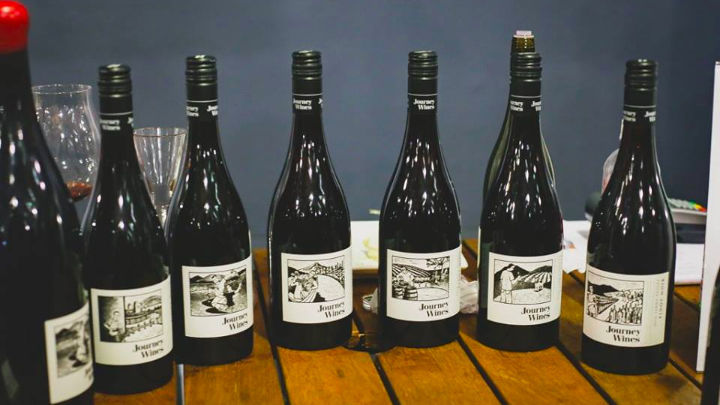 It's where A selection of Australian and New Zealand winemakers set up shop to showcase the best of their bunch and allow us lucky punters a taste or five.
For those that don't know, there are two parts to VineCru: one half is studying wine and running a restaurant; while I, the better half, simply love to drink it and learn as much as I can from the incredibly talented wine snobs I surround myself with.
So, I was dragged along (willingly) to Pinot Palooza, a haven for the Pinot Noir lover, where we zigzagged across the pavilion from stand to stand, tasting from well-established producers and the newbies on the scene.
Here's our list of the superstar Pinot Noirs of the day:
2016 Journey Wines Pinot Noir
In our opinion, these guys stole the show.
Damian North's Yarra Valley winery is all about the journey and boy, do their wines take you on one.
The 2016 Pinot Noir showed cranberry and red cherry on the nose, with a complementary spiciness from the oak. The wine was matured in French barriques for a total of nine months, bringing some spiciness to the palate with a long finish.
2015 Stoney Rise Holyman Pinot Noir
In Tamar Valley in northern Tasmania, you'll find the 5-star rated winery Stoney Rise.
The family-run winery presented its 2015 Pinot Noir. 100% estate-grown, the winemakers noted 2015 as one of their best vintages yet, due to some pretty lucky weather.
You'll get a burst of red and blue berries on the nose, followed savouriness and spice on the palate.
2015 Moondarra Samba Side Pinot Noir
Grown in the volcanic soil of Mt BawBaw in Gippsland, Victoria, Moondarra wines are robust in flavour as a result of the unique environment.
Their Samba Side wines are completely biodynamic and use half to two-third bunches that are hand-picked.
The wine we tasted was expectedly rich yet elegant, showed dark cherry and earthiness on the nose, following through to ripe tannins, that same dark cherry, and Christmas spices.
2014 Vinteloper ODEON Pinot Noir
These guys say this is the best wine they've ever put in a bottle, and we'll just say that everything about this wine - from the handpainted label, to the herby, cinnamon, cherry on the nose and earthiness on the palate - is absolutely delightful.
I wonder how many of the mere 612 bottles that they produced we could drink?
YsPeople is a community for the wise. You can voice your opinion on anything here. Simply sign in to post your poems, reviews, opinions and life stories via your unique member dashboard.