Apple, ginger and rosella cordial scones
---
About Milla Cordial
Milla Cordial is a family-owned business based in the wonderful fruit growing area of Orange in regional New South Wales. Our heritage is steeped in the Australian bush, country living, community and good Aussie values.

Cordial scones? You read that right! And they are divine!
Put a sexy new twist on an old favourite.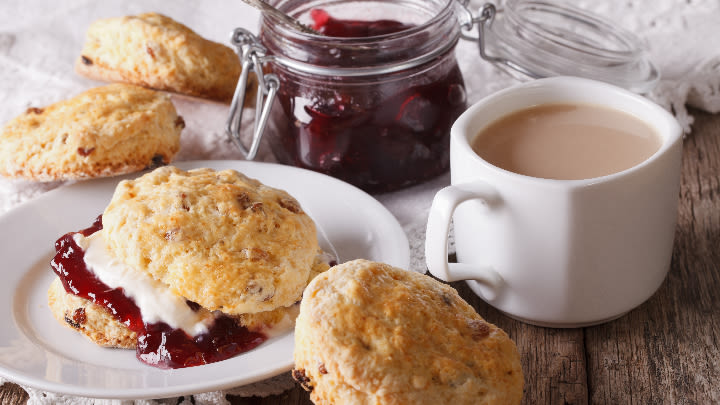 • Three cups of SR flour (no sieving required)
• 1 jar of rosella flowers in syrup - or you can substitute with a tablespoon of cranberries

• 300ml cream, plus 240ml water (try soda water for even lighter, fluffier scones)
Chop up some rosellas (you only need one rosella flower per batch), or toss in a tablespoon of cranberries
(Note: We have found in this recipe that the cranberries give a better natural sweetness more than the rosellas, however the rosellas chopped roughly give a funky shaped fruit in your scone).
Preheat oven to 250C (yes, HOT HOT HOT!!).
Pour the cream over the flour, then pop in the fruit (if required), two generous teaspoons of baking powder, then pour over the 240ml of water and 60ml of Milla Cordial's Apple, Ginger & Rosella Cordial.
Important: Fold the mixture with a normal plain cutlery knife - plain as the nose on your face. Tip the ingredients onto a floured board, then sprinkle a little bit more flour over the top.
Knead a little and flatten gently until approximately 6cm thick. Dip your scone cutter into the mixture and then cut scones with your scone cutter. Place onto baking paper on a flat oven tray. Brush the top of each scone with full-cream milk.
Cook scones for 15-20 minutes until golden brown. Put on wire rack and cover with a tea towel until cool - traditionally you would 'roll' them (ie. wrap them up) in a tea towel and let them cool - this has been known to keep the moisture in the scones.
Try your scones with some rosella jam for a bit of a difference from the usual strawberry.