Junior Legatee conquers Kokoda Track
---
About Legacy
Caring for the families of those who served their country.
Donate now!
Young trailblazer Kirstie Morrison flies the flag for Legacy Australia to commemorate the 75th anniversary of the Kokoda Campaign.
Perth Legacy employee and Junior Legatee, Kirstie Morrison, took on the gruelling challenge of the Kokoda Track early in September.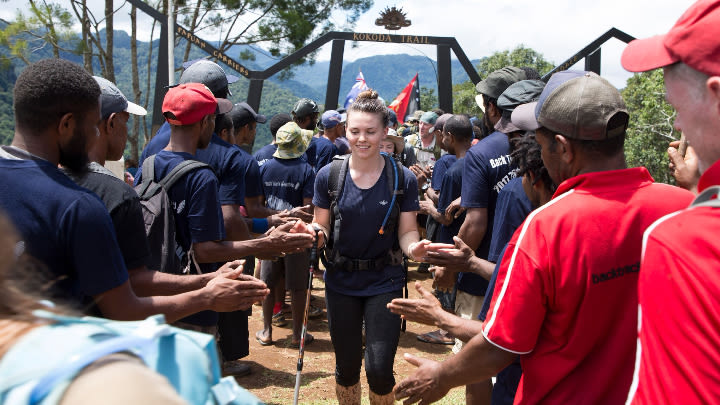 Kirstie, 20, was one of 43 trekkers taking part in Operation Legacy Australia Kokoda Challenge 2017 (OP LAKC 17), to commemorate the 75th anniversary of the Kokoda Campaign.
The trek, the first of its kind for Legacy Australia, was designed as a leadership development opportunity for Junior Legatees and took place during Legacy Week (28 August to 7 September 2017). OP LAKC 17 would not have been possible without the support received from the three corporate sponsors -- Peet Limited, Thales and QinetiQ Australia.
Kirstie, who works as an administrator at Legacy House in Perth, walked the track with her brother Jared (21), also a Junior Legatee, under the guidance of their mentor, Able Seaman Haydn Bonderenko (25).
All three are from Baldivis and were joined by the final member of the WA team, Junior Legatee Emmelyne Jackson (20).
Kirstie and Jared have been members of Legacy since their dad, Andrew, died during a training accident in 2000.
"Dad had served in Somalia, but was training in the US when he died in a rock climbing accident. I was only three and Jared was four. The following year I became part of the Legacy family and have been a member ever since," Kirstie said.
"Legacy has been amazing to both my brother and I. They really have been a second family for us."
Kirstie and Jared moved around as young children with their defence force parents before settling in Baldivis 10 years ago. Their mum, Kim Farmer, was also a member of the ADF.
The pair have been friends with fellow trekker Emmelyne since meeting her at a Legacy Christmas function in 2011 – the year Emmelyne joined Legacy after losing her dad, Andy Jackson, to a malignant brain tumour.
Kokoda is known to test physical endurance and strength, along with being mentally demanding. Haydn led the trio through months of training in order to prepare for the conditions and to ensure that each were able to complete the trek while being able to soak up the experience.
Before the trek, Kirstie shared: "It's going to be tough, we are going on hikes with Haydn whenever possible, and it's a challenge because I also have my own training to keep up as well."
Kirstie is a successful runner and is currently training for the 400m with her eye on a future Commonwealth Games.
Looking back on the trek, Kirstie said: ''The trek was as I expected – tough, mentally and physically! It was one of the hardest yet most rewarding challenges I've taken on so far."
"Whilst it was physically draining, I found it more of a mental challenge. I did struggle at times and wanted to give up. I am grateful for the great group I was with who helped me push through. I also drew on the love and friendship of my legacy family to push me to the finish line."
Kirstie often found herself comparing her journey to that of the soldiers, who faced carrying 50kg on their backs with their rifles at the ready during the Kokoda campaign.
''It's so hard to comprehend a war happened where we were walking," Kirstie said.
Kirstie praised the porters who helped their group along the way.
''They are some of the friendliest and most kind-hearted people I have come across. It is heart-warming that they are keeping the tradition of trekking the Kokoda trail alive," she said.
One of Kirstie's highlights was sitting underneath a hut with only a few other trekkers while the porters sang traditional songs.
"I will always be a part of Legacy and look forward to continuing to fundraise and assist the next generation of Legacy Wards, so they can be given the same opportunities I have been given."
The Legacy Kokoda trek was such a life-changing experience for so many, who have dealt with their own loss of loved ones and the care shown by Legacy.