Perth digs deep to help families in need this Christmas
---
About Foodbank
From humble beginnings, Foodbank has grown enormously to become the largest hunger relief organisation in Australia.
Foodbank is a conduit between the food industry's surplus food and the welfare sector's need to ensure all Australians have enough food to eat.
The Foodbank School Breakfast Program also provides breakfast to participating schools. We are also the largest provider of nutrition education and healthy eating programs.
Hawaiian Giving Boxes help two worthy WA charities, Foodbank WA and Anglicare WA, provide a brighter Christmas to local families who are doing it tough.
The Hawaiian Giving Box is well underway to help Perth families in need enjoy a happier Christmas.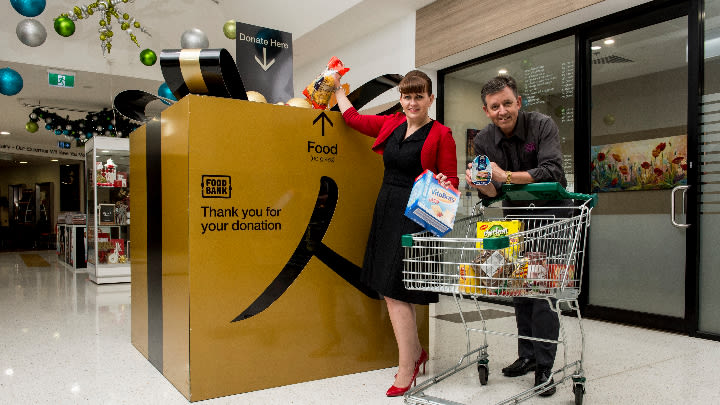 The campaign kicked off in late November and the response so far has been outstanding.

Hawaiian has once again joined forces with community partners Foodbank WA and Anglicare

WA with large giving boxes placed at major Hawaiian shopping centres, office buildings and

The Hawaiian Giving Box schools campaign ran for the last two weeks of November involving

3,500 students across 16 primary schools, collecting 1.5 tonnes of food, toys, clothes and

other items for Foodbank WA and Anglicare WA, that's more than triple last year's effort.

The Giving Boxes will be at Hawaiian Shopping Centres until 6 January 2018, so there is still time to give. So far this year 10,651 meals and 5,651 toys and gifts have been donated.
The Perth Wildcats also partnered with Hawaiian and Foodbank WA this year, asking fans to bring a can to the game against the Brisbane Bullets, raising 1,176 meals.
Hawaiian CEO Russell Gibbs said each Christmas thousands of Perth families struggle with

the reality of not being able to provide a special dinner for their family or put a gift under the

"The generosity of the Perth community never ceases to amaze me. Hawaiian is honoured to

be able to provide some support to members of the community who may be finding it difficult

at this time of year," Mr Gibbs said.
Foodbank WA CEO Greg Hebble said food insecurity is on the rise in our state. We are now

feeding over 94,000 people every month, a third are children.
"Unfortunately we are forced to turn away 13,000 more each month because we simply don't

have enough food to go around.
"We are so thankful Hawaiian, year after year helps us feed West Aussies in real need."

Anglicare WA Chief Executive Ian Carter said without the Hawaiian Giving Box campaign

many underprivileged families would go without.