Water: a crisis in the making
---
About Thomas
I write because I can type. I can type because I have a keyboard.
I am a new age Australian resident that is experiencing this new continent with a fresh set of eyes.
I write on a wide range of topics. Well, I write on food. There you have it, I write on a wide range of food as well.
Cape Town is about to run out of water -- and 11 other major cities are facing the same plight. Horrifying, isn't it?
I read recently that Cape Town is about to run out of water.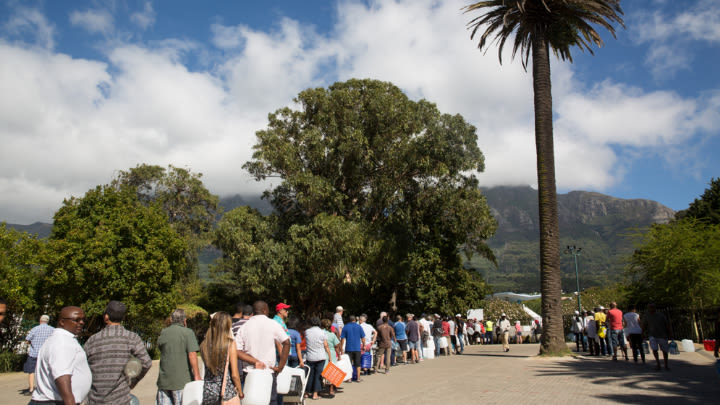 Experts were predicting that "day zero" in Cape Town -- a cosmopolitan city of 3.7 million people on the southwest coast of South Africa -- was going to arrive in late April and that people would have to start procuring water from one of the 200 collection points throughout the city. Now, after three postponements, the city calculates that it will reach that crisis point on July 9.
I also read that Bengaluru (formerly Bangalore) has a looming water crisis. An alarmist headline in a major newspaper last year proclaimed the Indian city would be unliveable by 2020.
While that dire prediction shook Bengaluru, it has already been forgotten. This year's monsoon has been deficient again, and Bengaluru is staring at a future without water. Sadly, this doesn't surprise me. I stayed with my sister in Bengaluru for a couple of weeks and her flat used bore well water, which was hard and unusable without filters.
According to the BBC, there are 10 other cities also likely to run out of drinking water: Sao Paulo, Brazil; Beijing, China; Cairo, Egypt; Jakarta, Indonesia; Moscow, Russia; Istanbul, Turkey; Mexico City, Mexico; London, England; Tokyo, Japan; and Miami in the US.
According to Water.org, 844 million people live without access to safe water and 2.3 billion people live without access to improved sanitation. Today, one in nine people lack access to safe water; one in three have no access to a toilet and more people have a mobile phone than a toilet.
In short, a global catastrophe is looming. Water is quintessential for the existence of all mankind, as much as the air we breathe. The human body is 60 percent water and we can only survive a few days without it. Also, without safe, clean water, people are subject to all kinds of disease.
So I find it surprising that Australia, a developed country, has no water-harvesting scheme set in motion. Most of the metropolitan areas of Australia receive a fair bit of rain annually, so it's appalling that the government has not set up policies to ensure residents and businesses harvest that rain.
There are some positives though, such as Western Australia's desalination plant, which produces 45 billion litres of fresh drinking water a year. But there is still much to do.
Meanwhile, there's plenty we can all do to conserve water in our homes are as follows:
Check taps and pipes for leaks;
Drop two minutes off your shower time. Showering for four minutes is ideal;
Don't use the toilet as an ashtray or bin;
Check your toilets for leaks;
Install water-saving shower heads;
Insulate your water pipes;
Turn off the water after you wet your toothbrush;
Only use your dishwasher and washing machine with full loads;
When washing dishes by hand, don't leave the water running for rinsing;
Don't let the tap run while you clean vegetables or meat;
Plant drought-resistant lawn, shrubs and plants;
Wash your car on the lawn. Don't leave the tap running;
Water early morning or in the evening -- and only on your street number's allotted day.
Use a broom, not a hose, to clean driveways and footpaths.
These small steps go a long way but it goes a long way in conserving water for the future generations. Let's make it happen and share more such measures we can take to save our planet and ourselves.