Munch on the run with tasty tuna patties
---
About Thomas
I write because I can type. I can type because I have a keyboard.
I am a new age Australian resident that is experiencing this new continent with a fresh set of eyes.
I write on a wide range of topics. Well, I write on food. There you have it, I write on a wide range of food as well.
Learn how to turn humble tuna into a delightfully more-ish meal or snack.
Tuna: it's inexpensive, packed with protein, tasty, nutritious and versatile enough to include in a variety of recipes.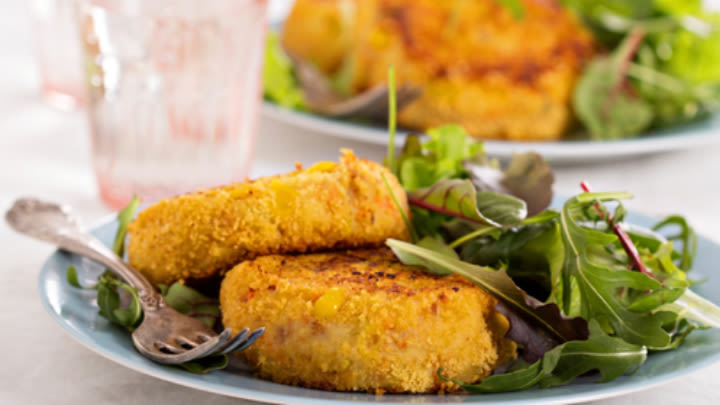 The health benefits are vast, too.
It's great for the heart and cholesterol levels, can boost the immune system, increase energy, maintain the health of the skin, increase red blood cell count, prevent cancer, protect against various kidney diseases, reduce general inflammation, and inhibit cell membrane damage.
So I thought I'd share a favourite recipe for tuna patties, which are perfect for eating on the run or packing in the lunchbox. Serves 3-4 people.
3 large potatoes, peeled, coarsely chopped
4 spring onions, thinly sliced
1/3 cup coarsely chopped dill
1/2 cup (75g) plain flour
2 cups (150g) panko breadcrumbs
Vegetable oil, to shallow-fry
1/2 cup (150g) whole-egg mayonnaise
2 tablespoons baby capers, coarsely chopped
Baby rocket leaves, to serve
Place the potato in a large saucepan and cover with cold water. Bring to the boil over high heat.
Cook for 15 mins or until tender. Drain well and return to the pan. Use a potato masher or fork to mash until almost smooth. Set aside for 5 mins to cool.
Lightly whisk 1 egg in a small bowl. Add tuna, whisked egg, half the spring onion and half the dill to the potato and stir to combine. Season.
Divide the tuna mixture into 12 even portions. Shape each portion into a 7cm patty.
Lightly whisk the remaining eggs in a shallow bowl. Place the flour and breadcrumbs in separate shallow bowls.
Coat 1 patty in the flour and shake off excess. Dip in the egg, then coat evenly in the breadcrumbs. Place on a large plate. Repeat with the remaining patties.
Heat the oil in a large frying pan over medium heat.
Cook the patties in two batches, for 2 mins each side or until golden brown.
Transfer to a plate lined with paper towel.
Serve patties with a squeee of lemon and a green salad.
Have some favourite family recipes you'd like to share with us? We'd love to share them with our Ys community.