How to plan for a future travelling on the road
---
About Dave
The Adventures of Dave and Ellen as we travel this big place they call Oz. You can follow us at justmovindowntheroad.com is to travel the roads of Australia in a safe manner to explore and see what and when we want and meeting others doing the same..
So you want to explore the grey nomad lifestyle? Here's what to consider before selling up.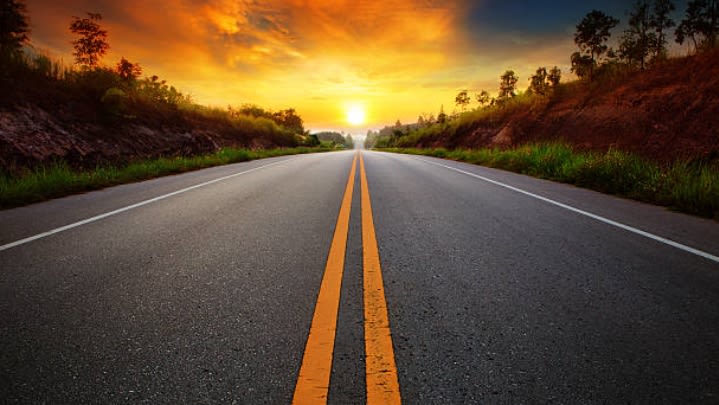 It's good to have you join us again. I've put together some information on how to go about planning and organising your way to swapping your existing life for one that sees you travelling the highways.
They are ideas and words from me, and others who I have taken advice from, that I've put together below.
You never know, maybe one day you'll be working and someone has a shot at you -- then you realise you are just hating your job, and decide to leave and travel in a van forever.
But before you jump in the deep end, start small by letting your partner know first.
And if you aren't already a caravan owner or camper, do consider hiring a van and seeing if you like it, because you need to be sure that this is the life for you.
After all, you will need to cut back on stuff you have, live together in a small space and move about a lot. And the biggest thing is that you will not be close to your family as you travel about, with only the phone and internet for contact.
It's necessary to understand you don't need a top-line van or brand new car. So look at your funds and buy a van that suits your needs only, not for the kids who may visit, JUST for you. You can get one for about $45,000-$50,000.
Get the van and then get the towing car to suit. If you are sure you have the right gear, good for you. But if you don't get it while you still are working, where you can pay it off before your planned retirement date, don't use your retirement funds, as this will eat into them a lot.
The same goes for any stuff you need. Get it while you are working. It also pays to start looking at travel-focused Facebook or web pages to get ideas and a little insider knowledge.
You may think that a right place to start looking for inspiration is your local caravan and camping show, but before you get excited by the massive range of tow vehicles, gadgets and gizmos, there's a whole list of things to consider.
It's a good idea to create a travel file before you begin shopping. This file can include sub-sections like:
Where do I want to travel?

Will those destinations lie on main routes, or will some off-roading be involved? If you intend to whisk off into the wilderness, your choice of rig should comply.
Who will I be travelling with?

Is it just the two of you, or is the whole family coming along? Taking the kids means buying a larger tow vehicle that concentrates on bed space rather than lifestyle.
How long will I be travelling for?

Are you planning on taking lots of short trips around the country, or do you intend to be gone for some time?
Where do you plan to park your vehicle?

If you plan on staying in caravan parks with good facilities, you can afford to scrimp on some of the caravan luxuries, like a built-in shower. If you're planning on staying in free camp spots, you'll need to consider additional capital costs, such as extra water-carrying capacity and power generation.
Where will I store the vehicle?

A caravan or motorhome is a big piece of equipment and if you plan on keeping it at home, you'll need to ensure that you have enough room. Otherwise, you may have to consider self-storage options.
Budget plays a significant role in what kind of vehicle you choose, with options ranging from a few thousand dollars to upwards of $200,000. Don't forget, there are also the on-road costs to consider.
Do I have a sturdy towing vehicle?

Caravans and camper trailers require a towing vehicle that's authorised to carry enough weight. This weight will be calculated on the contents of your rig, and the people travelling.
What are my personal preferences? Do I like luxury and space? Do we need a queen-sized bed? ​

Do I like to cook in the kitchen?
Decide what your bare minimum requirements are for making your trip comfortable and enjoyable. ​

Once you have all this basic information in your travel file, you can start to look at the different makes and models of caravan that are available on the market.

​It's also a good idea to start looking at what you'll do with all your belongings, which you need to get right. We took three years to do it and the hardest part was the last two weeks. You'll understand if you have done it, because you start to doubt your decision.
Best now to start by looking around the house at what you have and deciding if you can give it up. And I mean all of it as you know it.

​You start with ideas of packing up stuff to put into storage and giving specific items to the family. Good luck with that, your kids will take some stuff but not what you may believe. They will most likely just take stuff and dump it so as not to upset you.

​I also did a spreadsheet of what we spent. It's worth putting together what it costs you to live in a house (now be honest and put in everything) and add a few hundred dollars a month for repairs and things you would maybe buy.
​You will see it adds up quick. Now, to travel at the high end, a couple will need around $1000 a week without any worry, which includes booze, food, fuel and somewhere to stay, plus an amount for repairs.
You should expect to blow the budget the first year -- as things will break and you buy stuff you never thought you would need -- and you go like the wind, then suddenly you start to slow down and enjoy the adventure.
Remember, most things are easy to control. If you stay in a place a while fuel gets less, and you will find that you eat less and buy healthy food.
Somewhere to stop can cost, but with free camps and the option of house sitting if you are smart, you will save heaps. It can get down to under $400 a week if you plan well.
So this is all from me for now, since I don't want to overwhelm you with so much to think about -- better to give you some space to re-read and understand before we move forward.
Remember, you can take this info as you see fit because it's presented as advice only. You may have a better way, or someone helping you, which is fine