Wind turbines keeping cows cool, and other tales
---
About Dave
The Adventures of Dave and Ellen as we travel this big place they call Oz. You can follow us at justmovindowntheroad.com is to travel the roads of Australia in a safe manner to explore and see what and when we want and meeting others doing the same..
My wife has a habit of putting her foot in it and it can be so funny, I have to share.
As we travel about enjoying life on the road, we hear and see things that are so interesting and different.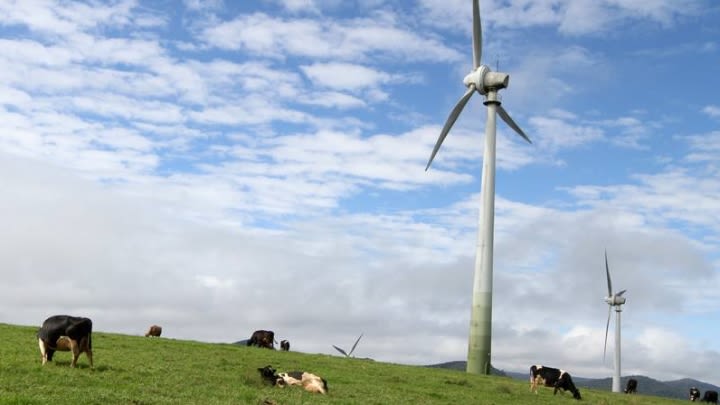 I've tried not to just write about ones involving my dear wife, but she does have a habit of putting her foot it. It can be so funny that I have to share, and please, I sometimes have been in the same boat as her.
So below are four short little stories that have happened to us over the past few months. Do enjoy!
1. Ellen was keen to get a job while in Atherton, so I said she should go to the local bingo hall and do some networking with the other ladies -- maybe they would know of some something that she could do.
So after two weeks of bingo on a Tuesday morning, I pull in and pick her up. She gets into the car and announces she has a job, I smile and say good for you.
But she smiles and says no, the job is for you! I told the ladies what you used to do and they were happy -- one lady said she needed work done on her house, and she wants you to go and do it for her down at Tully.
Now, I was surprised! I told her that the idea had not been to find me work, but to get her some. But she said it was good and I had to agree, but that was not what was going to happen at all.
2. So our next little story also took place at the bingo hall -- an event raising money for the kids and small charities. Wins are mostly around $20 or less -- so there's no big payouts and that's not what this is about, rather the country ladies use it as a place to catch up and chat.
So Ellen comes out after Bingo and gets in the car as per usual. This time she's quiet for a while and suddenly, she says: ''One of the ladies and I were talking about the wind turbines today, and she told me that the wind turbines are for keeping the cows cool is the hot summer days that they have up here!''
I sort of went: "What???''
And then she drops the bombshell: ''Is that true?''
I've got to say, my wife is blonde. So I asked her: ''Are you serious? Do you believe that they are for keeping cows cool in the summertime?''
And she says: ''No, but she sounded like she knew what she was saying!''
Now to be fair and provide a true picture, there are a good number of wind turbines on the tableland -- and they are in the process of putting in a heap more just now.
3. This happened to me when we called into the Target store in Rockhampton, as I was reversing into my parking spot. Ellen says, that guy over there is looking at you.
I look over to see a guy behind a car with just his head sticking over the roof staring at me. Then he was gone, but up popped his head a little further down towards the front of the car, still looking.
I went back to finishing off parking, and Ellen goes, he is still looking and is coming this way.
I glance over and he has a fixation -- on me or the car I'm not sure -- and I turn off the engine as he skirts around the front of the car.
Ellen goes, no he is going by us, no no, he's not. He walked past my driver's window and stopped as I opened the door. As I looked in the mirror, that same stare was written all across his face.
I opened the door and kicked my thongs out the road. As I'm looking down trying to get my toes lined up, I said: ''Hi mate, what's up?''
He says: ''I want that black thing!''
Now, my thongs are black and they are my size 11s, so I'm thinking: ''You can't have them. I like my going out thongs!''
But as I slowly looked up I see his finger pointing up to the roof of the car. There's a glaze in his eyes and he says: ''Where did you get that, its great?''
I'm looking up thinking, what did I hit, is it on my roof? I follow his finger to my wind deflector, as he says ''I want one'' over and over.
A bit taken aback, I just explained that I got it on eBay for $80. But he just stares upward, saying ''I must have one''. I point out they are about 200-plus, which does not seem to bother him, as I try to get him to back up so I can close the door. He just looks up with his head moving left and right, with a little smile in the corner of his mouth. It was a little creepy, to say the least.
I lock up as he moves back toward his car, looking over his shoulder, still staring at my car.
I'm thinking, do I go into the shops? Will it still be here when we get out? Strange people live in this town, and I just met one.
4. This final story is one that happens nearly every day at all caravan parks across the country -- and has caused the almost-death of many husbands and wives.
We were set up in a showground, and I was able to sit and watch what happens as vans come and go. For the most part, nearly everyone either packs up or sets up as we all do.
But there is always that one who arrives and is the expert at it all .... slowly rolling down the line of vans eyeing off the spots to find that one place for him, even after they have told him that he can park in either of two spots.
After about 10 minutes of driving back and forth, he believes he as spotted the place for him, only to find an old mate has his car parked slightly into that spot. So he leaps out and asks if old mate could move it so he can get in there,
There seem to be words spoken and I guess the answer was no, as he returns to his car and moves down a further 20ft.
Now it comes time to reverse-park into a spot with at least 25ft clear either side. But he seems to be heading back very close to the van on the right, obviously thinking he is alright but at a very strange angle.
So, he obviously believes he has it right, until the caretaker goes past and tells him, you can't park that close to the next van and to move it into the area he points at, square to the rest of the vans.
After a stare-down with the caretaker, he jumps in, drives out and over a little bit, and out pops the wife. She is not looking at all happy and walks to the front of the car, where she starts giving him directions.
But he just doesn't seem to see her, which is getting her angry as he keeps backing into the same place.
Now we have been watching this go on for at least 20 minutes. A bloke from another van jumps up to help and is seen quickly retreating back to his seat, having received a shake of his head.
We're hitting the 30-minute mark now and he has the van in the right place -- all he has to do is back it up, straight, to the fence where his furious wife is, hot and waving her arms about.
He stops, jumps out, leads her to where she is to stand, and gets back in the car. He moves again and she tells him to stop, as he is far enough back.
But he keeps going back, thinking he can see better than her. Next, there is a bang, ever so slight, but he's hit the back fence. All falls silent, then he starts using words that would not be welcome on a mine site, let alone here.
She walks off. He moves the van forward and doesn't at all look happy. Meanwhile, all those who are just watching and thinking what the hell just happened, try to look away and busy themselves doing something else.
He jumped back in the car and, followed after by the wife, was last seen on the other side of the showgrounds -- attempting a new park in a new spot.
I needed a coffee and a nap after that.
But it does not end there, maybe I will tell you the rest of the story, of how he runs out the water hose to van from the tap and it's 6ft short. No, maybe next time…
I hope we don't ever come across this guy out on the road, or in a van park, anywhere soon.