The real refugee question
---
About James
I have lived a lot of years and the more years I have lived, the fewer answers i have found. I hope that by engaging here we can discover some answers together.
All three of the common arguments against refugees have ignorance at their root. But there is one question yet to be addressed.
I really cannot abide ignorance -- and most people expressing views on refugees are ignorant.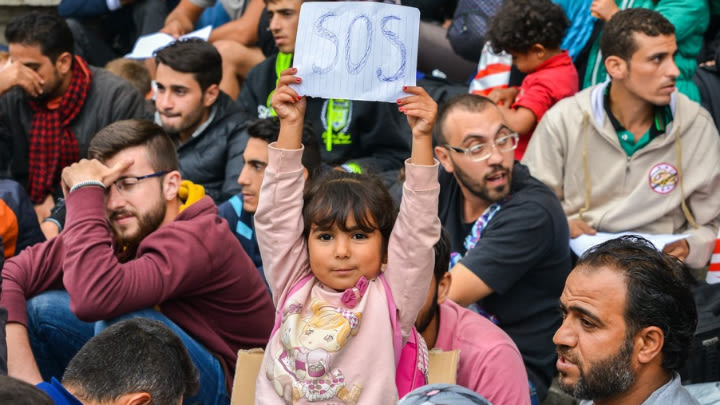 Put simply, the views on refugees expressed by the vast majority of Australians lack any factual foundation.
Let's take, for example, the view that Australia is being overrun with refugees.
The fact is, 90 percent of Australians come from European ancestry. A further 2.5 percent of the population identify as indigenous. Just 24.6 percent of the population were born overseas and most of those were born in Europe. Just 1.6 percent of Australians speak Mandarin, another 1.2 percent speak Cantonese and 1.3 percent speak Arabic.
Australia only accepts 17,500 refugees a year.
Australia is NOT being overrun with refugees, or immigrants. In fact, given the cultural benefits of multiculturalism, it should be argued that we don't take in enough immigrants.
Then there is the argument about terrorism, perhaps the most ignorant of them all.
There have been very few acts of terrorism in Australia. We rank 59th in terms of countries experiencing death through terrorism, in a world were terrorism is in decline -- at less than half what it was in the 1980s.
Many more people died as a result of terrorism in each year of the 1980s than in each of the past 10 years. There have been fewer than five terrorist acts in Australia and less than that in the United States in the past 10 years. And while there has been a lot of coverage of terrorist activity in Europe, deaths are at an all-time low, despite immigration and refugee flow being at an all-time high.
It is also interesting to note that while Irish Catholics were killing many hundreds of people each year in Europe in the 1980s (yes, the IRA were Catholic terrorists), there was no discussion of reducing Irish immigration. Further, ALL of the research shows no link between rates of refugee flow and the number of terrorist acts.
There is also the argument that immigrants and refugees damage the economy by taking jobs that may otherwise be undertaken by locals.
This argument is bizarre, given the evidence from the 1950s, '60s and '70s in Australia, the United Kingdom and the United States that shows high rates of immigration actually drive the economy.
This fact is highlighted in all relevant economic models. Immigrants and refugees work, pay taxes and consume like any other person, which drives economic activity. By 2050, immigration will contribute more than $1.6 billion to the Australian economy, with immigrants making up some 16 percent of the workforce.
There is NO evidence that immigrants impact negatively on the economy. In fact, all evidence is to the contrary.
All three of the arguments above have ignorance at their root.
But there is one issue with immigration and refugees that has not received sufficient attention, and it revolves around this question: if citizens are fleeing their country because it is a mess, who should take responsibility for cleaning up that mess -- someone else?
Children and their mothers, old people and the disabled are clearly excluded from this argument. They are not in a position to fight wars or oppression. But men aged 18-60 are, in the main, more than able to work with others in their country to improve the circumstances in that country.
If Australia was invaded and we all decided to leave, who would repel the invaders and restore the country to its former glory? Certainly not those who left.
I can't say for sure, but I woud hope I'd stay and fight. Equally, if there was a major natural disaster, I would hope I'd stay and help.
I suspect that the refugees fleeing Syria and other Middle Eastern countries are little different from many of the people who fled Austria and Poland during World War II.
I have no doubt this observation is relevant to people of all nationalities, religions and ethnicities, but the fact remains -- they have left the restoration of their country to someone else. It may well be argued that many of them have abrogated a basic human responsibility.
Who is going to make their country better for their children, if they don't?
On this point there are precidents, but no facts.