Plum and pear crumble
---
About Thomas
I write because I can type. I can type because I have a keyboard.
I am a new age Australian resident that is experiencing this new continent with a fresh set of eyes.
I write on a wide range of topics. Well, I write on food. There you have it, I write on a wide range of food as well.
The perfect dessert served warm with vanilla icecream.
So, I wanted to something different with plums, given they are in season.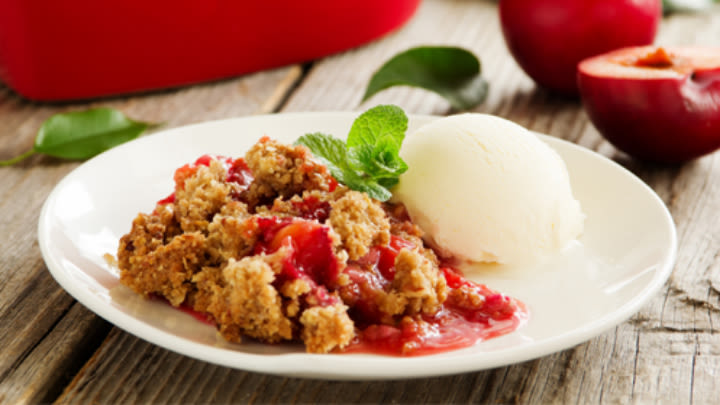 My usual routine is to go with an Indian plum cake -- a Christmas recipe handed down from generation to generation from the internet (ha, I got you there!). But I was more inclined to try something special and that's where this after meal dish comes from.
It serves 4-5 people and takes an hour to make. But it is worth it.
3 ripe pears, peeled, cored, cut into thin wedges
6 just-ripe plums, pitted, cut into wedges
1/4 cup coconut, shredded
1 teaspoon ground cinnamon
Vanilla icecream, to serve
Heat a large (22cm base measurement) ovenproof frying pan over medium heat
Add pear and sprinkle with caster sugar. Add 1 Tbsp water. Cook, turning occasionally, for 5 minutes or until slightly tender.
Arrange plums over pears. Cook, gently turning occasionally, for 5 minutes or until plums begin to collapse.
Meanwhile, combine the flour, oats and brown sugar in a large bowl.
Add butter and use your fingertips to rub the butter into the flour mixture until it resembles coarse breadcrumbs.
Add the coconut, almonds and cinnamon and toss to combine.
Sprinkle evenly over the plum mixture.
Bake for 20 minutes or until golden-brown and heated through.
Set aside for 5 minutes to cool slightly.
And finally, serve with vanilla ice cream. Do you have a special dessert planned for Easter? Share it with us.