Tasmania turns it on for these grey nomads
---
About Dave
The Adventures of Dave and Ellen as we travel this big place they call Oz. You can follow us at justmovindowntheroad.com is to travel the roads of Australia in a safe manner to explore and see what and when we want and meeting others doing the same..
Dave and Ellen Smith get familiar with some stunning historic architecture, a new house sit, dodgy drivers and a frozen bum.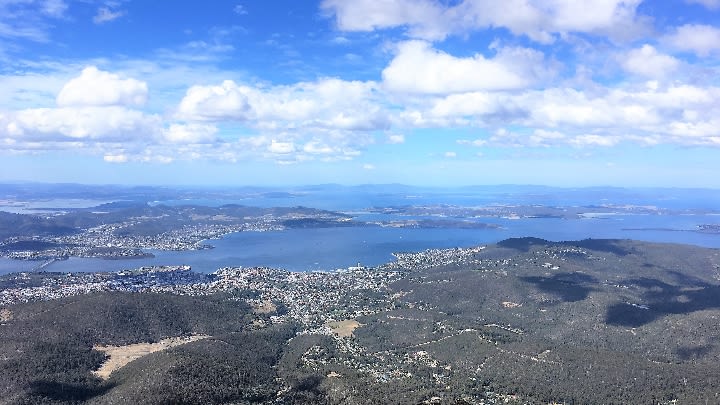 Today's post is about our first month in Tasmania. The time has gone by so quick, and below is a bit of a round-up of our month, but you can catch up with more photos and posts on our website.
So from just boarding the ferry to get to Tasmania, to a month later where we are house sitting and its starting to get cold, we are having a ball.
On our trip over on the ferry, we knew it would be rough because it was windy. The plan was to get to sleep before the ferry got to open sea and that was fine, but it was rough as hell.
I woke to hear Ellen softly saying: ''Up... and ...down, up.. and ...down''. I was sure she was going to be sick, but I fell asleep again, thankyou, and I did not wake til about 5.30am.
Since we would not be docking until 8am, I went for a stroll around the ship and it was like walking after a few drinks, with me bouncing off the walls. There was nobody about, as you see in my photos Tasmania Crossing.
We got our call to go to the car right on 8am and were off the ship within 15 minutes, which was much better than the two hours or more to board. Before we knew it, we were away to Launceston for the next week before we had to go to our house sit.
So we got about looking at things around the town of Launceston and we were surprised by the age of some of the buildings. After a few days we went out and visited the site of the mine where those two men were trapped, Beaconsfield Mine. It's closed now but the museum has good information about the mining in that town. The only thing about the trip out there was the amount of road kill. Nearly every 20 metres there was a dead animal on the road.
But we still visited a few place and that day was when Ellen tried the scallop pie, which left such a bad smell in the car, you can read that story here onsite.
We had a great time checking out the history and the attractions close to town -- places such as Cataract Gorge , which is 10 minutes from Launceston and a great place for a walk on a warm, sunny day.
And the houses are so stunning in the way they have been built and are everywhere you look.
They seem to take a lot of care to look after their past, with most older buildings looking good. Some of the parks have outstanding flowers and rose gardens, not that I am a flower person but you can't avoid the colours and smell.
As you go along, each house has a plaque that tells the story of the buildings around you, giving a better understanding of the area and architecture.
The dates of some of the bridges built are mind-blowing and they carry the big trucks of today. They could not haveknown that they need to make bridges that would take such weight.
You just get stunned by each turn in the road, with the beautiful buildings and the way some towns are set out. You also get to understand that each town has at least two churches and maybe two bakeries, which are filled with goodies for me if she is not about.
So far, the place we are house sitting is excellent. We are close to all the services we need and within driving distance of the sites and towns we have visited.

It's good also that we have a house, because the weather is increasingly getting colder -- so it was a wise call by us.
The hills and valleys are so brown for now. As the winter comes and the rain with it, things will change and go to green -- and the trees will get those colours we don't see in northern states.

We've enjoyed seeing some different styles of buildings and how some were built, as they did not have the equipment that is around now and they are large stones they had to lift up.
The places along the way have been outstanding, but Oatlands and Ross will have a soft spot for me. Others tell me they would instead go somewhere like Richmond, Tasmania.
They have a lot more people visit and a lot of shops that fill the needs of tourists, but for somewhere to stop and park the van overnight in a quiet place, go to somewhere like Kempton or Campbell Town.
We have noticed that you don't need to spend lots on going to places. Sure, you can if you must, but we are just enjoying the country and next month we will head down to Port Arthur for a visit.

We also plan to head further south, to as far as we can go, enjoying the places along the way and perhaps the colours of the northern lights during the colder months.
So we are now at the weekend just gone. We've just been out to Bothwell to Derwent Bridge and you will now be up to date with our Travels in Tasmania for now. We hope you are enjoying it so far and we will be busy out checking out more places as we can.

We have about seven weeks more before we go north and west to next house sit, which is for three months. This will be our winter abode near Cradle Mountain, which is a snow town, I believe.

As we get used to the ways of our Tasmanian cousins, we are understanding their relaxed way of life. Some do need driving lessons, as they drive in the country style and you just have to deal with it. Also, the backpackers are everywhere and can be pushy, so don't let them take over places you visit.
Today we headed into the markets. Not knowing what to expect, we just walked into hundreds of people checking out the stalls, which seemed to go on forever and ever.
After a while, much of it was the same. But we met up with our old friends for a bite to eat and a 30-minute ride on the horse and buggy, which cost $80.
After the markets, we took a slow walk back to the car checking the old houses on Battery Hill. There are some great old houses and a lot of workers' cottages that have been done up without changing the feel of the buildings. Some people in Brisbane could learn a lot about protecting heritage from these people.

it was not too late so we headed up to the top of Mt Wellington, which is a big drive up a narrow winding road that is close to the edge, so you see the distance down as you climb higher.
When you reach the top, it's a barren place where you expect snow to be (and will in a few weeks, I guess). I was surprised by the amount of people who were up here and those still coming up. They say pictures are a thousand words so check out Hobart here.
No post would be completed unless I had something funny to add. Here's something I posted recently on our Facebook page, which will be something to ponder as the weather gets cold.
Special Announcemen For All Tasmanian Travellers
If you are planning a visit to Tasmania, I have to let you know about a particular thing
They will never tell you about at any time during your planning.
It is a something I am having trouble finding words for and it is only for the ladies out there
And possibly some men, too.
The Tasmanian Government, in all their wisdom, have for reasons of having a laugh
Or not, done something which is dangerous to you.
They have bolted to the cold concrete floor a stainless-steel toilet bowl, and there is no seat
So as the colder weather is coming, it will be a joy to know that your rear end will more than likely be frostbitten at roadside toilets.
I discovered this when my wife needed a pit stop and while she was going, I did too
I'm not sure if it was her next door, but I heard a little scream and an ''oh my God,'' and ''shit, shit, my bum''.
Now I'm not certain if you ladies and some gentlemen have trained your Number 1s or 2s
But it did not sound all that fun.
So I would at least try to get a lamb's wool dunny lid cover and carry it for help
As they do get to freezing and nature does not care when it needs come along.
So men, be prepared to hear about her bum til at least it warms up after a visit to the roadside dunny
Or at its worse, you may be called to rub in burn cream.