Parkerville Tavern's sordid history revealed
---
About Allen
Journalist and PR guy who loves living in Perth with its fabulous food and wine and wide open spaces.
Owners of the Parkerville Tavern have been delving into the history of one of WA's oldest pubs, revealing some sordid secrets.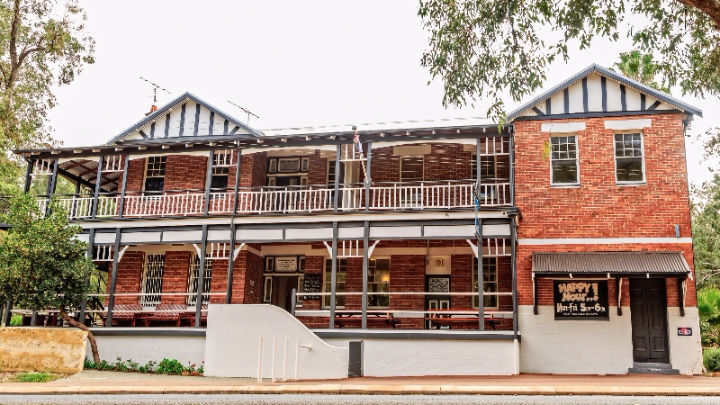 It was the scene of a violent death and is reported to be haunted by the dead man's ghost. It has had its run-ins with the law, been ravaged by fire, rumoured to have been a hang-out for bushranger Moondyne Joe, been closed down, refurbished and re-opened.
A newspaper report in the 1970s quoted then owner Bill Harrison, who talked about the discovery of a hidden cellar found in 1963, which had originally been used to keep kegs of beer cool. The cellar, damaged by water, is no longer in use. (However, echoes of its existence still remain underfoot if you tread on certain floor boards in the bar.)
The same newspaper report said the hotel once had a bath in the gardens, referred to as Cleopatra's Bath, fed by mineral springs.
The bath has gone, but rumours reported in the newspaper said some of Moondyne Joe's ill-gotten gains could still be buried in the grounds.
Joanne O'Connor, one of four directors who took over the Perth Hills pub in 2013, said she'd heard many stories about the building's shady past and they were keen to piece together as much of the building's history as they could.
"There's plenty of rumour and conjecture about the building's history, but we'd love to try and nail down more about what's fact and what's fiction," Joanne said.
She said former owners held a séance there, supposedly getting a response from the original resident of the site where the pub exists today. Joseph Ottey was shot by his daughter when she caught him beating up her mother.
That killing caught the attention of the public in December 1900, when it hit the headlines as quite a scandal.
Joanne said she felt uncomfortable being in the pub alone at night - and there were visitors who said they could sense something strange about the building.
"There have been occasions when the food bell goes off when nobody is near it, and from time to time the lights flicker on and off," Joanne said.
"When you are the only one here first thing in the morning, it's very eerie."
Long-time local and regular at the tavern, Stan "The Mayor" Gough, grew up in Parkerville. He remembers timber workers, chicken farms, orchardists, quarries and the railway, which was closed in 1966.
He recalls that in the 1950s, Parkerville was very much a place for blokes, which made the pub a big focal point.
It was famous for its fabulous Sunday Sessions in the 1970s, a time when pubs in the Perth metropolitan area weren't allowed to open on Sundays
Back then, the tavern was just outside the metropolitan area and enjoyed huge popularity as a relaxed drinking venue.
It's whispered that the premises operated as a brothel for a while, with many of the rooms upstairs being rented out by the hour.
The Parkerville Tavern had its origins in 1896 when Joseph Ottey, a contractor, took up an allotment in the new land division of Parkerville.
Parkerville was named to honour Stephen Henry Parker, a barrister and QC, chairman of the Perth City Council, colonial secretary, and Perth's first chief justice (he was knighted for his services in 1908).
On August 13, 1897, Parkerville Lot 72, which is where The Parkerville Tavern sits today, was listed as belonging to Alice Ottey.
The Ottey house on the site of the present hotel was a roomy timber and iron place, where wife Alice lived with some of her eight children.
However, Joseph Ottey was reported as being cruel and violent to his family. In November 1900, Alice tried to get a protection order against her husband from the magistrates in Perth and Guildford – but failed.
On December 4, 1900, Alice Ottey entered into a violent quarrel with Joseph at their home. First, he attacked his son. Then daughter Catherine tried to intercede on behalf of her brother, before Ottey turned on her, then his wife, grabbing her by the throat and forcing her, choking, on to the table.
In a desperate attempt to protect her mother, Catherine, just 19, and well aware of the violence her father was capable of, seized a loaded revolver and shot her father. Twice. One bullet struck his groin, the other grazed his leg.
Ottey was taken to Guildford Hospital, but died the following day. In what became known as "The Parkerville Shooting Case", daughter Catherine was first accused of wilful murder, but this was later changed to manslaughter. On March 18, after hearing the long history of domestic violence, the jury took only five minutes to make its mind up and to much relief, brought a verdict of not guilty.
In 1902 following the death of Joseph Ottey, his widow, Alice Ottey, was granted a licence to sell wine and beer from her residence under the sign of "The Railway Hotel".
With many squatters living in the surrounding bush and a flurry of activity from the local sawmills, gravel quarry and fruit orchards, it wasn't long before the hotel was reported to be "in full swing". Alice and daughter Catherine managed the daily affairs, pouring many pints for the thirsty workers.
Soon enough, Catherine married and moved to Kalgoorlie. Shortly after, Alice decided to rent the premises to a Mr W. Bramwell, and then to a Mr W. Angove, who later made substantial additions, and He upgraded "The Railway Hotel" to the status of a full public house and changed the name to "The . Parkerville Hotel".
Other owners and licensees followed, but by 1921, the premises had become so neglected that it was de-licensed, until it was rebuilt in 1928.
In the 1970s, owner of the day Bill Harrison changed the name to "The Parkerville Tavern". Gary Manolas took over in the early 1980s. He added some character to the hotel and enjoyed renewed popularity with the weekly Sunday sessions.
Since the 1980s, The Parkerville Tavern has changed hands numerous times. It survived a fire in 1990 and has undergone further restoration work.
In March 2013, "The Parky" changed hands once again, and is now under new ownership. Two old school buddies from Mazenod, Thomas Martin and Ian O'Connor, and respective wives Anthea and Joanne, have joined forces to create what is The Parkerville Tavern today.
In recent times it has undergone extensive renovations and is now enjoying renewed popularity. There's live music on weekends and good, unpretentious food served seven days a week, with a family friendly atmosphere.
The tavern's new logo, featuring Sir Stephen Henry Parker, is a reminder of the tavern's humble beginnings.
And as a winner of Tripadvisor's certificate of excellence for the past two years, the tavern owners believe it's a sign they are doing something right.
YsPeople is a community for the wise. You can voice your opinion on anything here. Simply sign in to post your historical discoveries, poems, reviews, opinions and life stories via your unique member dashboard.