The mistress is in total control
---
About DJC
The older I get, the less I know and the more inquisitive I get.
Unfortunately, despite a lifelong search, most of the answers elude me. That said, I love to ask the questions and fuel the debates that will ultimately lead us all to a better understanding of the big issues in life, the universe and everything.
They say that we spend 98% of our lives in our head. I for one would like to use that time as effectively as possible.
In part five of this series on alternative ''power exchange'' relationships, we learn more about Patricia (a true disciplinarian) and her ''property'', Bill.
I have already introduced you to alternative lifestylers Jim (and his property, Sandra), and Pat (with her property, Bill).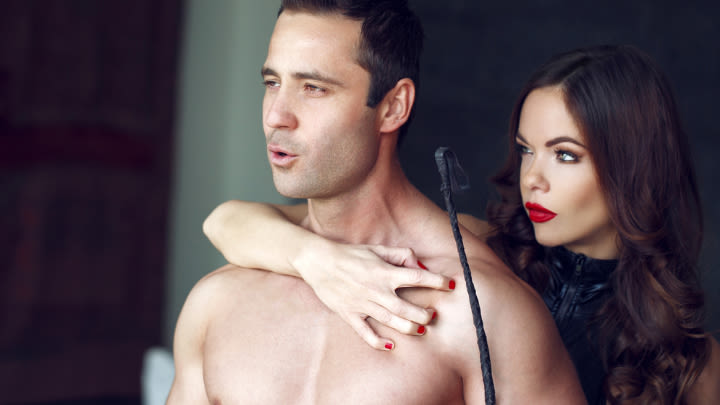 We have already learned that Lady Patricia is very strict and a true disciplinarian.
This is reflected in the fact that Bill is kept in a chastity device 24/7 with designated periods without his shackles, which can become further and further apart if he behaves.
Bill is under no illusion that his owner's pleasure is his primary focus and responsibility, or that any pleasure he gains must be earned. So, I asked about the sex life of these dominant/submissive lifestylers.
Again, Pat did most of the talking, with Bill only able to say anything when told to.
Pat informed me that she and her slave had a very active sex life, and that both of them worked towards orgasm at least once a day. The facilitation of those orgasms was entirely a matter for Pat, with Bill doing as he was instructed, for fear of missing out altogether,
Pat explained to me how she gained a great deal of pleasure, as did Bill, from her binding and whipping him.
''I enjoy inflicting pain,'' she said.
So I asked Bill if he enjoyed receiving it, to which, on instruction, he responded: ''Sometimes.''
It seems Pat enjoys inflicting a great deal of pain and eliciting tears, while Bill prefers a milder level of discomfort, without the tears.
That said, It was equally clear that Bill enjoyed and gained a great deal of satisfaction from giving his owner pleasure in any way that she wanted it. He was prepared to endure considerable pain, and release a flood of tears, if it made Pat happy. And it did.
When quizzed on the nature of these beatings, Pat showed me a number of implements ranging from a crop, to a cane and a whip. She enjoyed the whip the most, apparently. I asked how hard the beatings were, to which she replied "hard enough to leave welts and cause tears''.
Pat was, it would seem, a sadist, and appeared very happy with her lot in life.
In addition to deriving her sexual pleasure from inflicting pain on Bill, Pat had a passion for leaving him bound for long periods of time. She would do cruel, unusual things to all parts of his body with no reference to Bill -- and even less consideration for his feelings about it.
The look on Bill's face and the odd comment suggested to me that he enjoyed all of this a little more than he was prepared to admit, at least in front of his owner, the person with all the power.
Bill was not a small man and this was clearly consensual power exchange.
Bill was consenting to total submission to Lady Patricia, allowing her to take full control of their sex life, his body, his mind and just about everything else. Lady Patricia made all of the decisions and he obeyed without hesitation.
It was clear that Bill would not want it any other way.
In many respects, it might be said that Lady Patricia had emasculated Bill. Perhaps this was why she had him in chastity for a good deal of his day and night. Perhaps this was also why Bill was not permitted to sleep in the same bed at Lady Patricia, but rather on a rug at the end of her bed.
Pat explained that despite being her best friend, Bill's status in life dictated that he should be kept in chastity and not use furniture except when it served her purposes. As if to highlighting this point, Pat noted: ''He is property, a slave. We are not equals.''
Lady Patricia is a tough lady. But I get the idea that Bill is a lucky man, taking from the relationship just what he needs and wants.
While this ends this series of articles about Jim and Sandra, Pat and Bill, I would love to hear about your experiences in this wonderful and widely misunderstood world.