How we sold up and hit the wide, open road
---
About Dave
The Adventures of Dave and Ellen as we travel this big place they call Oz. You can follow us at justmovindowntheroad.com is to travel the roads of Australia in a safe manner to explore and see what and when we want and meeting others doing the same..
I'm here to help anyone who wishes to speak further on joining the grey nomads (or not-so-grey ones). Here's our story.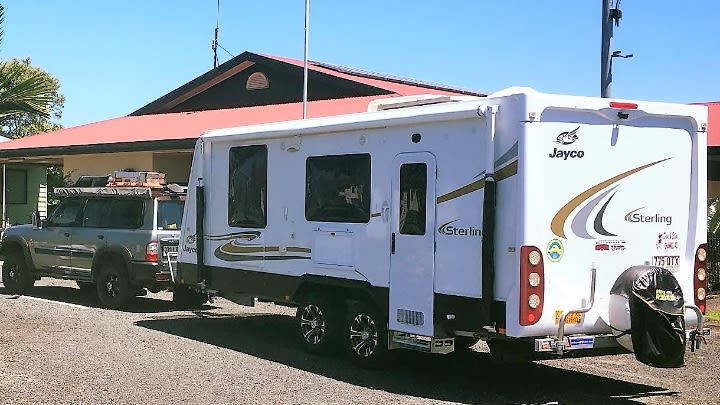 I was Emailed by the editor and asked to join this page, as she seems to be following my FaceBook or web page, which are about our travels about Australia in our van.
But not let's get too far ahead of ourselves. Our first story should be who we are and what we are doing.
My wife Ellen comes from a family of nine and is of European background, her parents were Polish/Czech Republic and indeed, she had no camping experience at all.
I am from a family from Australia and there are seven in my family.
Together we had two children and now have six grandchildren, so it's a big family.
I was living with my brothers and sisters in a van from the age of six or seven and it stayed that way, up until when I got married.
So I am pretty well experienced in van living and towing a van is in my blood. We travelled to many places up and down the Queensland coast. In fact, I went to 15 different schools and made friends with so many people during that time. I believe I got a great life experience from that -- more than many would have had.
Not going into much detail, I worked in the construction industry for nearly 40 years and have enjoyed 40 years of married life.
We were living how you are expected to do, with a house, two cars and steady jobs. But I always had a dream of returning to the lifestyle of my young days -- and returned home after work one day to sit the wife down and tell her my vision and plans.
Well, after she settled down and the brown paper bag was not required, I let her think about it, speak to family friends and others, until she said after some months that she was happy to go ahead.
So we planned a two-year timeline to get rid of things and go travelling. Mind you, there were so many things to consider during that time.
I spent a good many weeks writing lists of stuff that we would require or need and set about sourcing them. Ellen stopped buying things for the house and started deciding what was going.
But not much happened in that first year or so, til maybe June 2016, when we got real serious with the house. A room at a time was cleaned out, stuff was put into boxes and marked to give away, sell, keep or junk. Funnily enough, most was junked.
Because you keep things, it's our nature.
We had the garage sale over two days and got rid of a lot of stuff. But mountains still had to go. As it turned out, donations were our answer and in the last couple of weeks, we had our camp chairs and van TV, and slept in the van as house was empty,
Yes, I have jumped over a lot. I don't wish to bore you on our first date, so to speak.
So to fill in a few things, we had a van for travelling in already because we loved to camp with family on weekends.
I had a near-kitted out 4x4, so we were lucky in that we did not have to buy those in one hit. If you are planning to do something like us, plan for a few years to get things while you are working, so an income can help pay for essential items. Don't use your bank accounts or super for such things, and don't buy the biggest and best vans/cars, you might find after a few months they were not for you.
That's why having lots of short trips, and a couple of longer ones, is worth doing prior. Remember you will be together 24/7 and that can be hard. Get your hobbies sorted, and book reading and craft stuff going, because you will have time to do those things.
We have now been travelling for over 12 months and enjoying every minute of the adventure.
Yes, you do miss family and friends, but they have lives as well. Plus, the phone and internet are there, and one of the reasons we started our Facebook and web pages was so they could follow us, and see what we see.
It just got slightly out of han. Now we are followed by lots of people who love seeing our photos and reading my ramblings, it seems.
As part of our planning, we decided we would dedicate part of our adventure to being house sitters. This is a way of meeting people in their homes who are travelers like us. It also gives us ideas about where they live -- as locals, they are excellent at providing us places to see.
It also helps us save money because we don't have to pay for van parks, showgrounds etc. We have saved so much in the past 12 months -- only 11 times we paid for nights in parks, so that's a big saving there. We get up to four emails a day asking about house sits all over Australia.
So I will end this today by saying its fun, and it's all up to you now if you wish to read my ramblings and enjoy my photos.
You can do so here or at my web site. I am here to help anyone who wishes to speak further on joining the grey nomads (or not-so-grey ones).
By the way, I am not 60 yet, so don't use ''I am not at retirement age'' as an excuse. We are doing this before we are unable to, or become ill or die.